DAISY In Training Award Recipients
2016 Recipient: Hoa Nguyen, RN-BSN STUDENT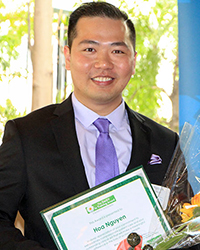 Mr. Hoa Nguyen, RN-BSN 2016 cohort, is the recipient of the 2015 DAISY in Training Award. Hoa exemplifies qualities that make a great nursing leader as he practices compassionate care, safety, and teamwork; provides superior service, exceptional communication, and stewardship; and advocates for patients. Beyond his admirable character and leadership skills, Hoa has dedicated his life to tirelessly being of service to his community. Hoa is a full-time servant, helping those in need, and as such shines as a leader with great initiative who hopes to build a stronger community and make a positive impact on the world. Working at a local food bank, Hoa assembles food packages for low-income individuals, and he works with the transient community providing food, clothes, and care to all. Hoa is a volunteer at Cedars-Sinai, employed as a RN full-time in ICU at Harbor-UCLA, and also works per diem in ICS-SDU at Kaiser Permanente. Hoa Nguyen is also a member of the Clinton Foundation 20/30 for young professionals and future business, government, and civil society leaders. The School of Nursing is thrilled to present this year's DAISY Award to Hoa Nguyen.
---
2015 Recipient: MICHAEL LE, EL-BSN STUDENT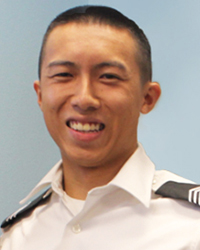 Mr. Michael Le, EL-BSN 2014 Cohort, is the recipient of the 2015 DAISY in Training Award for various reasons. He has shown qualities that make a great leader, patient advocate, friend, and nurse. Michael is active in ROTC, the army reserves, and would like to join the Army as a medical nurse in the future. His passion to help others has led him to participate in community services for the past five years. This past summer, he volunteered himself to be deployed for a month to Vietnam to help with medical missions and to teach English to children. Michael will make an exceptional nurse just like the nurses that provided care for J. Patrick Barnes, who this award was created after. We are honored to congratulate Michael Le as the inaugural recipient of the 2015 DAISY in Training Award.